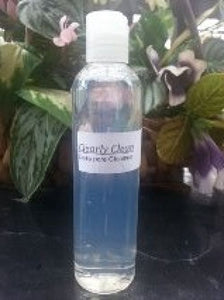 Clearly Clean is a remarkably unique cleanser for skin, found to be especially effective for the treatment of blemished skin as its gentle, non-toxic properties lift sebum (skin oil) and dead skin scales from the pores. It is non toxic and safe to use around the eyes. It removes all makeup and mascara. Clearly Clean holds excess oil and dead skin scales in colloidal suspension so they can be rinsed away.
Clearly Clean is antibacterial and will help eliminate the bacteria and yeast that normally occur on facial skin. Bacteria thrives on the oil, or sebum, excreting fatty acids that then attack the walls of the follicle, which cause them to rupture creating additional complications.
Directions:
Morning and evening, apply a small amount of CleansAide to finger tips or cosmetic pad. In a circular motion gently cleanse face and eye lid area for one minute. Rinse thoroughly with warm water. Extra heavy make-up may require a second application. Your skin is now ready for the next step in your skin care regimen.
Features:
*Non-Toxic formulation
*Safe for all skin types
*May be used to remove eye make-up without eye irritation
*Prepares skin for triple fruit or glycolic acid treatments
*Excellent make-up remover
*Super cleaning action for oily residues of foundations and powders
Benefits:
*Triple fruit and Glycolic acid treatments are more effective, go to work instantly
*Removes make-up residues from skin pores completely
*Many skin blemish conditions reported to be remarkably improved.
Ingredients: Distilled water, non-ionic surfactant, herman talic saponis, bicarbonate, EDTA.